Author: planys
Date: July 12, 2016
Underwater inspection with the Bots-2
12 Jul 2016 | Posted By Planys Technologies
As you would have read in our first article, Remotely operated vehicles have been designed to meet the extreme demands of underwater with inspection of subsea structures in hazardous environments.
Recap:
As technologies and capabilities have increased, industries like Maritime (Ports and shipping) , Infrastructures (Dams and bridges) and Energy (Oil & Gas, Nuclear, Power and Desalination) have come to rely on ROVs (know more about what a ROV is, in our previous blog 'Underwater inspection with the Bots') for drilling support and underwater construction services to develop deep water exploration and development projects worldwide. Manual inspections have limitations of endurance, depths, and ability to carry payloads, and inability to work in hazardous environments. Overcoming these limitations, ROVs have unlimited endurance, provide repeatable data, access higher depths, and can work in hazardous environments.
Work class ROV's
The next iteration of ROV called Work class ROV (Source), are powered and electrically enabling some more serious traits in the subsea level. Most of these ROVs are deployed for repair work underwater. Work class ROVs operate in the World's harshest environments and are therefore designed and built with the highest levels of technology, expertise and innovation. Due to its overall capability and modular design its used to provide subsea oil field and construction support as well as inspection, repair and maintenance of installations. These ROV's that are combined with extensive subsea engineering helps to collect data faster and with enhanced accuracy.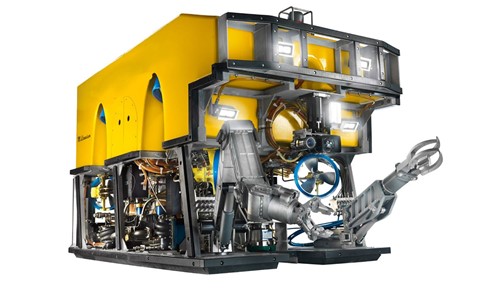 Eyeball ROV's

The Eyeball ROV (Source) is a 'compact industrial remotely operated vehicle with a camera and basic underwater inspection sensors. Its motions are similar to the human eye and hence the name. Eyeball ROVs are very small in size and weight, and carry camera(s), light(s), and a few basic payloads. These are used for surveillance and as an alternate to the diver, specifically in places where the diver might not be able to physically enter such as sewer, pipeline or small cavity. Eyeball ROV's weigh around 3kg to a maximum of 15 kg. One person will be able to transport the complete ROV system out with them on the boat, deploy it and complete the job without outside help. Respectively these ROV's are referred to as "eyeball" class to differentiate them from ROV's that are able to perform intervention tasks.
Know what Planys ROV's are capable of

With the growing fleet of latest technology, the work class and eyeball ROV systems, Planys offers underwater inspection and survey solutions using ingenuously manufactured ROV. Planys ROV is specifically built for calibrated visual inspection of underwater structures and has the capability of reaching 200m depth, 6 degree of freedom control, offering repeatable data with unlimited endurance. Planys ROV is capable of live video streaming to the engineer. Planys ROVs are robust, compact and easy to deploy due to their light weight compact structure, and can effectively operate even in usually inaccessible conditions. Services by Planys are customizable, high quality, cost effective and come at no risk to human operators. All service offerings come with a basket of add-ons providing unmatched customer experience, including the possibility for on-line assessment and quick reporting.