Extensive Underwater Bridge Inspection
Planys one of the best underwater bridge inspection companies conducted underwater visual inspection at two railway bridges that are over 85+ years old in West India. The underwater bridge inspection was aimed to identify damages and deformations that could affect the structural integrity of the bridge piers

Scope of Work: Underwater visual inspection of submerged parts of 4 specific piers.
Planys Solution: The inspection was performed using Planys' remote operated vehicle Mikros, equipped with high resolution camera, altimeter and depth sensor.
Over 45 anomalies were identified

during the bridge inspection and were categorised into minor, moderate & major based on the size of the defects that included cracks, honeycombing and cavities.
Planys' proprietary

image enhancement algorithm

was used to enhance the videos taken in the extremely turbid waters

All anomalies/defects were plotted

against geo-tagged CAD drawing of every section on the Planys Analytics Dashboard (PAD) with localised click-to-view video.
The client could take relevant action for repairs and maintenance based on Planys' findings.


Images show deployment & site setup of the ROV system during inspection




Figures show dimensions extracted
with Planys ROV of cavity, honeycombing and cracks during inspection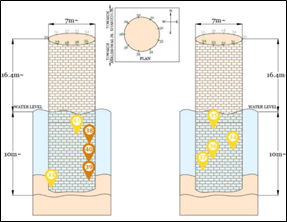 "Hot-spot" map showing concentration of anomalies